Image
Image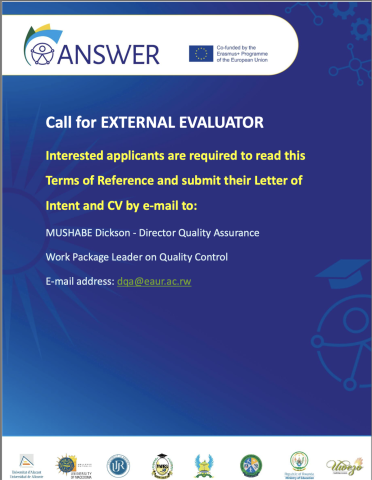 The East African University of Rwanda (EAUR) has officially announced a call for applications from qualified individuals or organizations to serve as an External Evaluator for an upcoming important project. As part of the university's commitment to maintaining transparency, objectivity, and excellence, the External Evaluator will play a crucial role in assessing and evaluating the project's outcomes and effectiveness.
The project in question aims to foster improve accessibility, ensure learning conditions and foster policy change towards inclusion for students with disabilities within the context of Rwandan Higher Education System via modern inclusion practices, training and networking, further enhancing the quality of education and overall academic experience of students with disabilities in Rwanda. ANSWER partners are keen on engaging an experienced and reputable External Evaluator to ensure an impartial and comprehensive assessment of the project's impact.
All interested candidates are invited to apply by submitting their applications before the deadline on September 1, 2023. To access the detailed requirements, evaluation criteria, and other relevant information about the role, prospective applicants can refer to the official document provided by EAUR at the following link: ANSWER-Call-for-External-Evaluator_V2.pdf.
Qualified applicants should possess a strong background in evaluation methodologies, relevant experience in the education sector, and a commitment to upholding the highest standards of professionalism. Additionally, ANSWER encourages individuals or organizations with a comprehensive understanding of the educational context and research practices in the field of accessibility and inclusive education for students with disabilities to apply.
This External Evaluator opportunity presents a unique chance to contribute to the growth and development of EAUR and make a meaningful impact on the region's educational landscape.
For any inquiries or to submit applications, interested parties are requested to contact the university's evaluation committee at evaluations@eaur.ac.rw.
ANSWER partners look forward to welcoming a talented External Evaluator who shares their dedication to excellence and progress in the field of education.